I am incredibly EXCITED to show you my new collection, more Items to come! YOU CANNOT get these in stores! Only HERE!!
Meeku is such a sweetheart, Kind Considerate Comfort cat. She is Kremlin's Niece and My Mom's Cat, and one of the loveliest cats I know! This is a photo my mom took, and I edited. Meeku is also possibly going into a modeling gig, she might be the spokes-kitty for Eye Candy Earrings By Kat (or Ear Candy..)!!
(when there is more info on Earrings By Kat,
a link or contact info, images and whatnot) This is Also on my blog KremlinTheCat but I wanted to give it it's own space here. The SHOES are to DIE for! I LOVE Zazzle!! Real People, Crafters and Designers, making Products together~! Thank you Zazzle!!
The Meeku Collection
Accessories!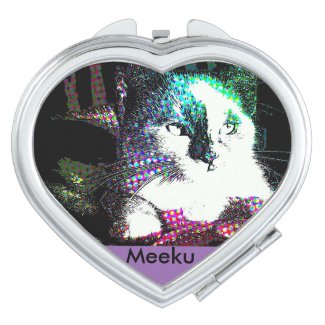 Meeku Pop Art Purple Heart Mirror
by DaynahzArt
Journaling
STICKERS
SHOES!!
*sorry about the angle, If you click the link and go to it, you can see it from all different angles
LOTS More Products Coming Soon!
Keep your ears perked and your whiskers clean!
#Meeku, #MeekuTheModel, #EarringsByCat #Zazzle #SparkleP8nter #DayzPage